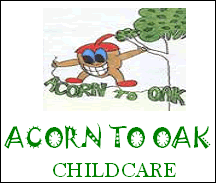 Portumna Community Childcare Group Ltd.
St. Brigid's Road,
Portumna,
Co. Galway.
Tel: 090-97-59595
Email:
acorn2oak2@eircom.net
Opening Hours:
7.15am to 6.00pm
Monday - Friday
Manager: Yvonne Winters
---
Mission Statement
To provide Quality, Affordable, Accessible and Integrated Childcare Service for the Portumna Area.

---
News Updates
Acorn to Oak - Now Enrolling
Enrollment is now taking place for Acorn to Oak Childcare services including Wobbler Room, Baby Room (Home from Home), Breakfast Club, Afterschool, Montessori (Free Childcare Places), Toddler Room.
Our '
Now Enrolling
' information poster can be viewed further down this page or by clicking
here
.
---
Acorn to Oak Childcare - Now Enrolling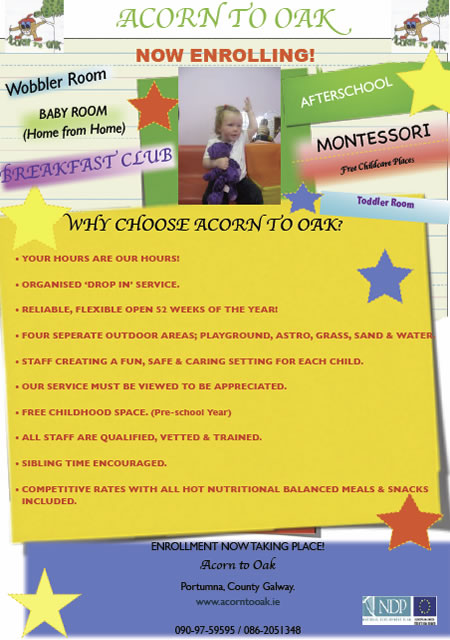 For booking or enquiries please contact
Yvonne on 086-2051348.
---
Services Available
Babies / Wobblers

3 Months - 2 Year



Equipment for this stage of development is chosen with a view to the baby crawling, seeing, hearing, touching and reaching.

Baby massage is a speciality.

Toys for this stage of development are chosen with this in mind.

Sensory area
- Wall and floor matting

Mobiles
Musical Equipment
Books with textures, colours, shapes
Rolling objects
Push and pull equipment
Building blocks
Ball pool
Activity centre

Toddlers

2 - 3 Years



Pre-school with introduction to montessori in the mornings.

With experienced montessori teachers.

Activities for this age include creative and imaginative sensory based activies, music and drama etc.

Activity area
Creativity area
Dress-up area
Library
Imaginative play
Sand & water games

Montessori - Incorporating Pre-School Activities

Experienced montessori teachers
Holistic montessori environment,
Including; practical life, sensorial, language, maths, culture
Sensory / Therapeutic Based Activities
Including; sand & water play, modelling clay, arts & crafts, music & movement.
Other Activities;
Including; yoga, circle time, roleplay, baking, outdoor activities.

Breakfast Club

The breakfast club is available from 8am - 9:15am Monday to Friday.
A designated member of staff will bring the children to St. Brendan's National School each day.
Acorn to Oaks promote a healthy diet, within their breaks and meal breaks.
Breakfast consists of glass of milk / juice, wholemeal toast and a choice of cereal to prepare them for the day ahead!

WhizKidz After School Club

The service includes:

Collection of children from St. Brendan's National School,
Hot Dinner after collection and late afternoon snack,
Homework time with supervision,
Stimulating and fun activities including;
Arts and crafts, board games, cookery, imaginative & roleplay, music, outdoor play areas and new for 2008, the use of the adjoining astro turf!
During 2011 / 2012 academic term a full day care service can be availed of during school closures.